Impasse for Teachers and Staff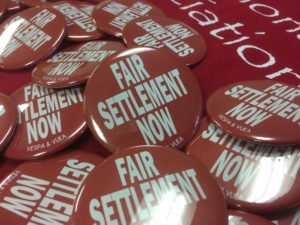 Why are we at impasse?
VUEA and VESPA have been negotiating with the district since the beginning of the 2016-2017 school year. The district's initial offer for a salary increase was nothing. VUEA and VESPA decided that a 2% on schedule increase was affordable and fair. We continue to hold this position. The current estimated cost of living adjustment (COLA) for the last two years is more than 2%. Our current offer for the last two years (2016-2017 and 2017-2018) remains 2% on schedule, which is below the estimated cost of living adjustment for those years. Ventura Unified employees remain at the bottom half of salaries when compared to surrounding districts, while administration salaries stand within the top 5. We feel that this income inequality is an insult to VUSD employees and demonstrates the true priorities of the administration. The district has remained firm at 1% on schedule. Failing to come to any agreement, and seeing no movement from the district, all parties have declared impasse.
What does impasse mean?
Impasse involves multiple steps. Initially a state mediator will become involved, and communicate separately with all parties in an attempt to come to a settlement. An agreement can be reached during this initial step. If no agreement is reached, the process moves to a phase known as "fact finding". In this phase, both parties will present arguments as to why they believe their offer is fair and affordable. We believe the district can afford a 2% salary increase for its employees. The state will determine, at this point, what they believe is a final offer. Both the district and/or the associations (VUEA and VESPA) can choose whether or not to accept this offer. Then, and only then, would the associations consider a work stoppage (also known as a "strike"). Let us be clear, we do NOT want to arrive at this point, but if the district puts us there, we will.
What are we doing at this point?
VUEA and VESPA are in the progress of implementing an aggressive and comprehensive public relations campaign. Among other things, this involves building a database of sympathetic community members and parents who stand by our side, mobilizing teachers, classified and certificated staff, community leaders, and voters.  Our message remains clear:
We are worth more than 1%!
The goals of the associations are two-fold:
Inform the public as to the current status of negotiations, the importance of recruiting and retaining quality educators, and the value of ensuring that all staff in Ventura Unified feel valued and respected by their management and administration.

Arrive at a settlement that not only ensures a fair and equitable salary, but that raises VUEA and VESPA to a level of parity and equal partnership with the administration. Ultimately, VUEA and VESPA leaders

do not feel that the associations have been treated with the level of respect owed to teachers and staff throughout this process.

This has been demonstrated through negotiations delays, lack of acceptable movement on the part of the administration, and not being included in the initial budget at the beginning of the fiscal year.

We feel that Ventura Unified employees deserve to be treated as a primary consideration during the budget process, and not to be offered what is only left over at the end of the fiscal year.

We want what's right, not what's left.
What are my rights during this process?
Materials distributed during this process (buttons, signs, etc.) can be worn on campus as long as they do not disturb the educational process. You can wear buttons and place signs in cars while on school campuses, but cannot discuss (beyond a brief conversation) the current process with students and/or parents/guardians. If asked, please briefly describe the information mentioned above and inform the student/parent that you would be happy to discuss the issue further at a time not conflicting with school hours. As this is not a political campaign, you have a legal right to wear and display supportive material. If asked to desist, the association asks that you comply, and inform your local site representative. We will promptly begin a grievance process that utilizes the resources of our governing associations.
What can I do to help?
First of all, you already are! By reading this and informing yourself as to this process, you are helping. You are already involved because you work in the district, and we want to make sure that you continue to have the ability to live and work comfortably in Ventura.
Your site representatives will be distributing materials to you as soon as possible; display them.

Talk to community members, and encourage them to write or call the school board to express their concern and dissatisfaction (see below).

Talk to your site reps about specific strategies to ensure that we reach an agreement as soon as possible.
When will this be over?
Our goal remains a 2% on-schedule bonus for the 2016-2017 and 2017-2018 years. This is the equivalent of 1% for both years. We have reviewed the books, and we believe the district can afford this increase. More importantly, it moves Ventura Unified in the direction of becoming more competitive when compared with salaries in surrounding districts. We would like to come to an agreement as soon as possible. However, the district has remained firm at 1%. We need your support, and we need to make it clear to the school board and superintendent that we deserve to be respected.
Impasse for Students
What's going on?
Employees in Ventura Unified are a part of what is known as an "association", sometimes called a union. The goal of these associations is to fight for the rights of its members, including arguing for fair salary increases. The administration is currently offering its employees a 1% salary increase. The associations are asking for 2%. Yes, we know, it's a very small number. Your teachers and school staff would much rather be working hard on your behalf instead of arguing over a measly 1%.
Are teachers going to strike?
We don't want to! We love our jobs, and we care passionately about the education of our students. A work stoppage, or strike, is a last resort option. A strike would be a disastrous inconvenience to the community. We want to settle this as soon as possible, and get back to the business of providing you with the quality education Ventura Unified has always provided.
Should I get involved?
Part of living in a democracy involves participation. We appreciate that students care about their teachers and want to advocate for the teachers that work so hard for them. However, at the moment, we ask that students do NOT attempt to intervene in this process. We will continue to teach, and we will continue to fight.
TL:DR We think a 2% salary increase is fair. The district thinks 1% is, and they don't want to budge. We do not want to strike, and hopefully won't have to. At the moment, please don't get involved.
Impasse for Parents/Guardians
Are teachers going to strike?
We don't want to! We have only begun what is known as a "impasse" procedure. The last resort and phase of this process would involve a work stoppage. We care passionately about providing a quality and uninterrupted education for your children. Regardless of this depressing turn of events, we will continue to devote 100% of our attention to your children. We do this job because we care about education, and we value your support.
Why has the district forced an impasse?
We are as confused as you are. The district has offered a 1% salary increase. We believe a 2% is fair and affordable. We are bewildered as to why the Ventura Unified administration and school board would even approach a work stoppage over 1%. While the district's budget has grown over the last 7 years, Ventura Unified employees have watched as our share of the total has dropped nearly 10%. We want this process to be over as soon as possible, so we can get back to the business of supporting and educating the students of Ventura.
What are the consequences of this?
Potentially, the consequences of this process are huge. By short-stringing its employees, Ventura Unified may fail to recruit and retain quality educators. For us, this is about more than 1%. Watching our school district decline would be a long and disastrous process. Test scores will drop, and property values may be next. Any hard working employee knows the importance of feeling valued and respected by their employer. Ventura Unified employees are already within the lower half of salaries when compared to surrounding districts (Oxnard, Hueneme, and Camarillo, among others). Ventura Unified has failed to make our district competitive. We are losing quality teachers to surrounding districts, who offer more competitive salaries and make their hard-working employees a priority in their budget, not an afterthought. There is a direct relationship between high performing school and property values in a community. We want Ventura schools, and the community at large, to prosper, not decline.
What can we do to help?
First of all, you already are! By reading this and informing yourself as to this process, you are helping. Ultimately, the school board and superintendent have a decision to make. Like any public servant, they need to hear from you! Please contact school board members and let them know that you support Ventura educators, and that your children are worth more than 1%!
Click below to contact the School Board and Superintendent: 
http://www.venturausd.org/board/SuperintendentBoard/BOARDOFEDUCATION.aspx
Follow the link above to find contact information for Ventura Unified School  Board members. Feel free to cut and paste the following paragraph when contacting these individuals:
Dear __________, my name is _______, and I live in Ventura. I am frustrated and dismayed by the current state of affairs within Ventura Unified School District. It's important for you to know that I support Ventura educators, and want the teachers and staff at my child's school to feel valued and respected. Your mission statement declares that you are working for "high performing schools" that "build supportive relationships". Offering only a 1% salary increase to your hard working employees fails at both objectives. I want Ventura Unified to be competitive as a school district, and to recruit and retain the best and brightest teachers. End the impasse now. My child's education is worth more than 1%.
The sooner this ends, the sooner we can devote our full and undivided attention to the business of providing the best education possible to your hard-working students. They deserve better and so does your child's education!